Tips, undocumented features, and product review
for the 32-minute Digital Recorder, model DR-84
sold by RadioShack® Corporation
Practical product overview
Undocumented features, tips
---
Records sounds, plays them back.
Sound recordings are stored digitally, in 8 MB of 'flash memory'.
'Flash memory' is named so because it can be erased instantly, all of it at once. Flash memory does not randomize - or lose data - when power is removed from the device (in this case, that's when the batteries run down.)
Sound recordings are stored in 2 folders, "A" and "B". Each folder may contain up to 99 sound recordings, so long as the total sound length per folder is under 16 minutes total.
Powered by 2 AAA batteries. These last very roughly 10 to 14 days of ~ 6 minutes of recording and ~ 12 minutes of playback, each day. Estimated totals: 1 hr of recording time & 2 hrs of playback/review/erase time.
Sound recordings, within folders, are stored by number. Sound recording # 1 in folder A, is first. Any one sound recording may be deleted individually at any time. But if a portion of a sound recording is not wanted, one cannot edit anything out to make a sound shorter, with this device.
Voice-activated mode works well enough for voice recordings in an environment quiet in low-pitch noise. Being near a highway (< 30 feet) or a seashore with surf, are examples of places where this device's voice-activated mode ('VOX') will not be useful. (Near roadways, it isn't very useful in any recording mode.) 1 ½ second pauses will be recorded, before VOX mode stops recording again.
Has a built-in microphone. But it is not a very good one (frequency response excludes high-pitched audible sounds), and is distinctly directional (see diagram.)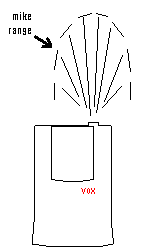 Auxiliary mike may be added, but test it before buying - some microphones will not work with the DR-84.
Earphone jack works fine except for getting an exact stereo rendition: a random brand of earphone only delivered left-ear sound when jack plugged in all the way. Both sides rendered (in binaural mono) when jack was inserted about 2 millimeters short of fully plugged in. Advantage: once I found the right range for my earphones, I didn't need to readjust it often, even in field conditions.
If you're looking for fidelity of sound reproduction, forget it: This device sstores data, not hi-fi sound. Recognizable sounds, speech, and intonation all record well.
Sound quality improves with earphones. The device's speaker is not good.
Cuts off audible high-frequency sound, unless it's very loud / right in the microphone.
(Not having found a good aux mike for this yet, I'm not sure whether one could improve recording pitch range.)
Has a clock, and an alarm.
---
When Beep is on, the button beep on starting a recording is not caught.
In rewind or fast-forward, when it reaches end or beginning of folder, it will loop around to the other end of the folder - unlike a tape recorder or VCR, it will NOT stop at the beginning or the end. (But 'Intro Scan' does stop after the last sound recording # in the folder.)
The same goes for forward skip / reverse skip: it loops around from sound recording # 1 to # (last in folder), and vice-versa.
BTW, forward skip, and reverse skip, are wrongly documented in RS's owners manual (c) 2001: for either mode, extra pressure on the

or

rocker button is required. Not just 'hold'.
& BTW, in 'beep ON' mode, the forward skip/reverse skip doesn't sound a beep except for the single-skip; When sound recording #s start scrolling, no beep occurs.
To get maximum free space (possibly in both folders, but esp. in a full folder with many short messages), press RESET - ! -
E.g. when free space is indicated but display flashes FULL when you try to record - RESET will 'speed disk' the memory some, to free up space. Evidently.
"Sector size" in the memory of this digital recording device (by experiment, I found) is about 8 seconds. So, to make the most of recording space, either
Tend to make recording of 7, 15, 23, 31, 39, 47 (...etc.) seconds long. (Details: 8x - 1 determines optimum length.)
Just avoid short sound recording lengths, where the loss ratio is greater. (Details: For 4-second-long recordings, loss is 50 %. You will only be able to record 120 of these -at most- or 8 minutes total sound per folder. For 12-second-long, loss is 25 %. Etc. - because 960 seconds = 16 minutes, and 120 8-second sectors of memory = 960 seconds.)
On the LCD display, "ERASE MESSAGE," after you press the ERASE button once, will flash on 5 times (or sometimes, 6 - esp. if the first flash is brief) before it will stop waiting for a confirm on the erasure.
There are 5 modes the LCD display can be in.
Clock/Idle mode (and clock settings)
Alarm settings
Play/review/skip/erase mode
Record mode*
Folder/Settings mode

( * record mode differs only in that no buttons but the REC/STOP and MENU button will affect operation, while recording. In Play/etc mode, all controls work, including REC/STOP...)

Ignoring the battery icon, modes look like this on the LCD:
How to get into modes from mode 1:
MENU
PLAY/STOP
REC/STOP
hold MENU (- but you have to be in mode 3! if you hold down MENU in mode 1, goes to the time-set.)
How to leave modes:
MENU
MENU
REC/STOP
MENU repeatedly (until you reach mode 3 or mode 1)
Alarm will sound in LOCK mode. LOCK can be activated in any mode, including recording.
In mode 3, the sound recording you currently select(ed) for review/playback, will remain set while the batteries last, until unset, even if mode 1 resumes for hours/days/weeks (apparently).
When recording, an intial 'click' in the sound may not happen - but since the REC/STOP button is used to stop recording and is very near the microphone, the click at the end is almost unavoidable.
Odd clicks get into the sound easily if you press the wrong button or shift your grip while recording. (With a working aux mike, these last 2 tips may not happen -?-)

[Product review by R. Hess, July 22 & August 8, 2002.]
---
- Page (and 3 associated graphic files) created August 9 & September 21, 2002, by Russell Hess, Webmaster (hess1@bigfoot.com) of '
UpSky2
' & '
UpSky
'.